VOTED ONE OF THE TOP 25 FILMS RELEASED IN HUNGARIAN CINEMAS IN 2010.
…A documentary film about the transformation of an exile community nearly twenty years after the end of the Cold War. 
This film is about growing up in an exile community in the West, developing a double-identity, and becoming a hyphenated-somebody. It's about learning to have two homelands at the same time – one in real life, and the other imagined and maintained by parents who were forced to flee. It is about a first generation of children whose parents lived abroad longer than they originally expected to, and who never really assimilated.
The story is told through an unlikely, albeit dramatic reunion – one which involves a Hungarian rock opera performed in the Sierra Nevada mountains of California by a cast of 40-something Hungarian-Americans. The original cast, including the film's director, meet in the exact same spot they performed Stephen, the king 25 years ago,  as Hungarian scouts during summer camp in 1984. That summer the Soviets still had tanks stationed in Hungary, and the country was isolated behind the Iron Curtain. Many of these scouts had never been to Hungary, where their parents were born.
The reunion of this original cast, now living all over the world including Budapest, makes for an emotional and hilarious portrait of one of many 'incubators' operating in the U.S. and Europe over the years. They're meeting not only to reminisce, but also to figure out just who they've become, twenty years after the  'Motherland' was liberated.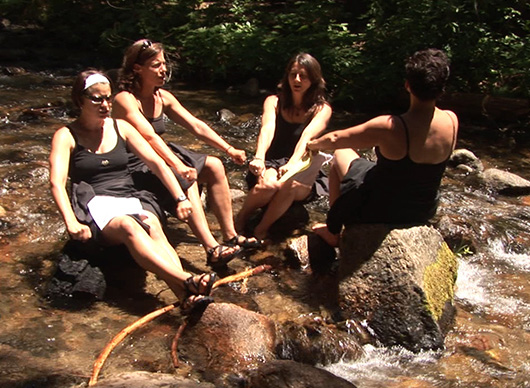 DIRECTOR'S NOTE
Our story began in 1984 when we performed Stephen, the king, a rock opera about the struggle for freedom, at a Hungarian scout camp in California.
This was a key moment in our lives.
We were born in the U.S., most of us to parents who fled Hungary after the 1956 revolution. Some of had never been to Hungary, and some of us didn't even speak Hungarian well. But in 1984 Soviet troops were still stationed in Hungary and our parents either couldn't – or just wouldn't – go back.
In the meantime we became American-Hungarians.Emphasis on the Hungarian.
Over the decades we developed a double-identity, which was further complicated when many of us moved 'back' to Hungary after the democratic transition.
Now everyone asks me, where is home?
The story continues in the summer of 2009, when we meet again near Yosemite Valley and perform Stephen the King for the first time in 25 years. This might turn out to be embarrassing – or it might be cathartic. Or maybe both.
But I wouldn't miss it for the world.
(Réka Pigniczky, Director) 
Documentary Feature
USA/Hungary 2010
Producers
Réka Pigniczky and Barnabás Gerő
Story Editor
Zsuzsanna Gellér-Varga
Music
Gáspár and Boldizsár Horváth

Line-Producer USA
Endre Szentkirályi